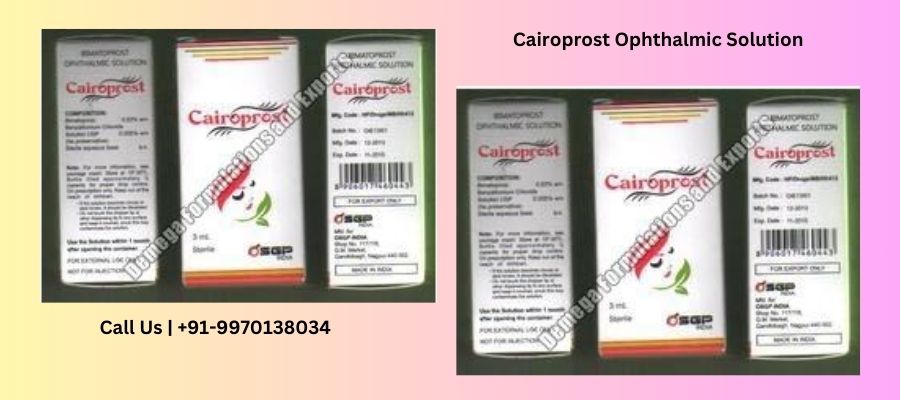 Cairoprost appears as a light of hope in the world of ophthalmic miracles for individuals seeking clearer vision. This ground-breaking ophthalmic treatment has quickly established a position in the field of eye care. Cairoprost Ophthalmic Solutionpromises a future where impaired vision and pain are a thing of the past.
Cairoprost at its Core
Cairoprost Ophthalmic Solution, a work of scientific genius, is a one-of-a-kind formulation created to treat a variety of eye problems. Its efficacy has improved the lives of many individuals dealing with ocular difficulties. It ranges from the busy streets of Cairo to global ophthalmology hospitals.
Deciphering the Mechanism
Cairoprost, at its heart, is a prostaglandin analogue that works by increasing the outflow of aqueous humour.The fluid that nourishes and maintains ocular pressure. Cairoprost helps to reduce intraocular pressure by improving drainage, which is important in the treatment of disorders like glaucoma.
The Comfort and Clarity Dance
One of Cairoprost's distinguishing advantages is its dual action.It improves eye health while also providing a relaxing experience for the user. Its mild mix alleviates the pain commonly associated with conventional eye treatments, providing a seamless balance of efficacy and comfort.
Application That Is Simple To Use
Say goodbye to clumsy eye drops. Cairoprost's user-friendly application simplifies everyday eye care. Users may enjoy the benefits of this solution without the headache of complicated procedures by using a simple application.
Changing Lives One Drop at a Time
Consider a future in which people with glaucoma or ocular hypertension may easily control their diseases. Cairoprost Ophthalmic Solutionbrings this vision to life. It allows people to retake control over their eye health and enjoy a life free of visual problems.
Cairoprost's Versatility Beyond Glaucoma
While Cairoprost is well-known for its ability to manage glaucoma, it also has use in other areas of eye care. This adaptable solution goes beyond its core goal. It responds to a wide range of demands, from increasing eyelash development to resolving cosmetic difficulties.
A Gentle Journey Through Side Effects
Cairoprost, like any other breakthrough, is not without its drawbacks. While users may experience modest side effects such as eye redness or itching, these are only temporary companions. The vast majority of users breeze through the Cairoprost experience without incident, observing its transforming results.
Caution and Consultation
Consultation with an eye care specialist is essential, as it is with any medical operation. Cairoprost, while a beacon of advancement, requires specific eye health supervision. Seeking expert assistance ensures that people begin their Cairoprost adventure with clarity and confidence.
Cairoprost's Tapestry: A Visual Symphony
Consider Cairoprost to be the artist, creating a vibrant tapestry of eye health. This ophthalmic treatment weaves a visual symphony that resonates with the melody of well-being. It ranges from the brushstrokes of decreased intraocular pressure to the brilliant hues of increased lash development.
Taking on the Future with Cairoprost
Cairoprost stands as a tribute to human creativity and the never-ending search fora better, healthier vision. As more people adopt this game-changing technology, the globe anticipates a future in which eye care is synonymous with comfort, clarity, and Cairoprost.