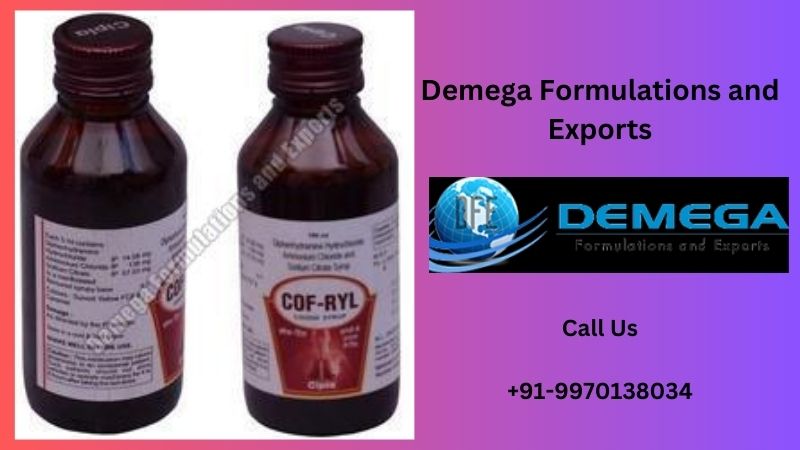 The COF-RYL Cough Syrup is intended to relieve coughing. It alleviates allergy-related symptoms such as runny or stuffy noses, sneezing, watery eyes, and congestion. Additionally, it thins mucus in the nose, windpipe, and lungs, which facilitates coughing up the mucus. You can contact cofryl cough syrup exporter to buy this medication in bulk for online pharmacies.
COFRYL COUGH SYRUP BENEFITS
During Cough Treatment
A cough is an abrupt, jarring ejection of air that helps in the removal of any mucus or irritant from the throat or airways. It can be frustrating if it occurs more many a times as a result of a sickness or an allergy. The cough syrup COF-RYL reliefs in liquifying thick mucus and lessens its stickiness, making it simpler to expel. Air may come and go outside easily as a result.
It will also make it easier for you to go about your everyday activities and ease allergy symptoms like watery eyes, sneezing, runny nose, or throat irritation. By using this medication, you can live more comfortably and worry less about the causes of your symptoms.
REPERCUSSIONS OF COF-RYL SYRUP
Most adverse effects are not permanent and thus they may go away once you become used to the medication. If they persist or you are concerned about them, speak with your doctor.
COF-RYL Cough syrup common side effects
• stomach/esophageal pain
• Dizziness
• Sleepiness
• a lack of cooperation
• thickened secretions from the respiratory tract
• An allergic reaction
How to use COF-RYL cough syrup?
Follow your doctor's instructions for this medication's dosage and duration. Before using, read the label for instructions. Take it by mouth after measuring it with a measuring cup. Shake firmly before using. It is preferable to take COF-RYL Cough Syrup at a set time rather than with or without food.
HOW DOES COF-RYL SYRUP WORK?
Diphenhydramine, ammonium chloride, and sodium citrate are three medications combined in COF-RYL Cough Syrup to treat cough. Sneezing, watery eyes, and runny nose are all allergy symptoms that are relieved by the antiallergen diphenhydramine. As an expectorant, ammonium chloride lessens the stickiness of mucus (phlegm) and aids in clearing the airways of it.
Sodium citrate is a mucolytic agent. This helps to thin and loosen mucus (phlegm), making it easier to cough out.
Where can I buy Cofryl syrup?
Cofryl syrup is commonly available in many pharmacies, drugstores, and online platforms that sell over-the-counter medications.
To purchase Cofryl syrup, you can consider the following options:
Local Pharmacies/Drugstores: Visit your local pharmacies or drugstores, as they often stock a variety of cough syrups and may carry Cofryl syrup.
Online Retailers: Explore reputable online retailers that sell medications, such as e-pharmacies or online platforms associated with established pharmacy chains. Check if Cofryl Cough Syrup Exporters offer the syrup for purchase and consider factors like shipping options and customer reviews.
Official Manufacturer's Website: Visit the official website of the manufacturer that produces Cofryl syrup. They may have information on authorized Cofryl Cough Syrup Exporter and retailer offer direct online purchasing options.
Consult a Healthcare Professional: If you are unsure about where to buy Cofryl cough syrup, consult with a healthcare professional or pharmacist. They can provide guidance on local availability, suggest alternative options, or provide recommendations based on your specific needs.
Remember to always purchase medications from trusted sources and follow recommended dosage instructions.