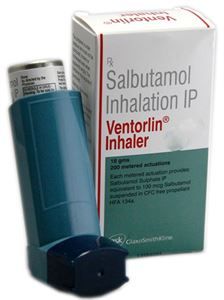 Asthma or bronchial asthma is a health condition of a human being when the breathing tract becomes swollen, narrower and inflamed. It is also characterised by producing excess mucus, which makes the breathing of the person more difficult. Asthma can be in a minor shape or fatal. In most cases, asthma gets interfered with mundane activities, but some chronic cases might result in a life-threatening attack.
In the present time with the increasing pollution, asthma has become a very common disease. Nearly 10 million cases of asthma are reported in India every year. This is a treatable disease under the supervision of a medical practitioner and diagnosis in regular intervals. Anti asthmatic medicines are very much available in every chemist shop. Rescue inhaler salbutamol treats asthma symptoms and controller inhaler steroids that prevent asthma symptoms.

Medication of an Asthma Patient
Treatment and medications of any severe diseases should be primarily consulted with a physician. Similarly, asthma also needs regular check-up and consultations with a doctor. Asthma medications are generally prescribed on the basis of the age of the patient, the symptoms they are facing, the severity of the disease and also on the side effects of the medicines on the patient if any.

Monitoring Therapeutic Drug
Caffeine and theophylline are two anti asthmatic therapeutic drugs that call for proper monitoring. In the case of chronic and acute asthma, theophylline works as a bronchodilator and also as a respiratory stimulant. The drug is taken orally, after oral absorption the drug is absorbed. The peak of concentration might be observed after some time with sustain release tablets.
Theophylline is partially metabolised in infants, forming caffeine. In adults, this drug doesn't form metabolites like 3-methylxanthine and metabolites of other types.
Apnea in addition to bradycardia is commonly noticed in premature infants, which is treated by caffeine. Monitoring the therapeutic drug caffeine is indicated only when the toxicity of caffeine including tachycardia, bitterness and gastrointestinal intolerance is apparently noticed from clinical symptoms.

Triggered Asthma
• Exercise makes muscles surrounding the lungs tightened that constricts the airways in the lungs. Heavy exercise might trigger this condition in human with or without the complexity of asthma. It is quite common among the athletes like swimmers, cyclists and cross country skiers. Dry and cold weathers are critical in cases like this.
• Working in a workplace that is exposed to a reported occupation illness might result in occupational asthma. 5 to 25 per cent of asthma cases in adults are found generated due to their occupation. Professions including spray painting, food processor, bakers, nurses, work associated with animals, chemical workers, hairdressers etc mostly end up with this disease.
• People addicted to alcohol might face worse symptoms of alcohol-induced asthma. This asthma shows reactions of respiration that reflect mechanisms that are related racially. With an emphasis on Asians, it is noticed that by consuming alcoholic beverages or even by inhaling ethanol fumes, a person might exhibit symptoms like rapid heartbeat rate, light-headedness, dizziness etc. This is some cases might be even fatal.

Distribution of Anti Asthmatic Drugs
Any kind of medicines in the present time can be availed from not only the chemist shop but also over the online platform. Thus with the help of digital means, markets beyond the national boundaries can also be achieved. Anti asthmatic medicines exporters supply dozes overseas and thus India extends the hand of help to the rest of the world.
This entry was posted on April, 21, 2021 at 13 : 14 pm and is filed under Pharma Medicines. You can follow any responses to this entry through the RSS 2.0 feed. You can leave a response from your own site.