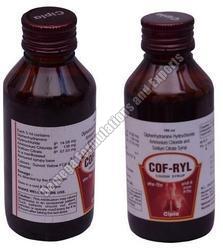 Cofryl cough Syrup belongs to a class of medicines called 'antihistamine' (anti-allergic). This is primarily used to treat allergic symptoms of cold like sneezing, watery eyes, runny nose, itchy nose/throat. It has been prescribed to people with common cold symptoms, and cough. An allergic reaction is an immune system response to external elements typically not dangerous to your body and those foreign elements are known as 'allergens.'

It is also used to
• generate sleep
• treat Parkinson's disease, and
• relieve cough caused by minor throat irritation

Composition of Cofryl Cough Syrup:
Cofryl Syrup is a mixture of drug comprising of three medicines: Ammonium Chloride, Diphenhydramine, and Sodium Citrate. Diphenhydramine works in blocking the natural substance (histamine) during an allergic reaction in the body. You will feel some drying effects of Cofryl Syrup on allergic symptoms such as watery eyes and a runny nose. These happen just because of blocking another natural substance (acetylcholine). Ammonium chloride reduces the stickiness of mucus. Then the third content, Sodium citrate as a mucolytic loosens the mucus and makes it easier to sneeze out. Also, it helps reduce allergy symptoms like running nose, watery eyes, sneezing, itching, congestion, swelling, or stiffness.

How to take Cofryl syrup- Dosages:
Cofryl Syrup can be taken with or without food in a dose and period as advised by the doctor. The doctor prescribes the dose according to your condition and response to the medicine. Somehow, you may experience drowsiness, sleepiness, stomachache, sore throat, nausea, headache, dizziness, dry mouth, cold-like nose symptoms (in children), or diarrhoea (in children). Most of these side effects of Cofryl Syrup that Cofryl Cough Syrup Exporters take care of. These, however, do not require medical attention and slowly will resolve over time. However, if the side effects are unrelenting, reach out to your doctor.

Precautions to take:
Take this medication only if the doctor prescribes it. You should not take it, if you are allergic to diphenhydramine, or have serious liver or kidney problems, or epilepsy, glaucoma. Boost the intake of fluids so that mucus is cleaned up. Before buying Cofryl Syrup exporters ask a doctor if you are taking alcohol, tranquillizers, for using Cofryl Syrup with drugs might induce drowsiness. Pregnant ladies must seek advice for taking this syrup from doctors.

Medicinal Benefits
Cofryl Syrup is principally used to treat allergic symptoms.
Consuming this syrup is easy. Use it as suggested by the physician.
It soothes sore throat instantly with warm water.

Directions for Use
Cofryl Syrup 60 ml can be taken with or without food. The tablet form of Cofryl Syrup should be swallowed with a glass of water.

Some trivial side effects for Cof-ryl Cough Syrup
Though there are no major side effects, you may feel some of the following symptoms. If these continue to disturb you, immediately contact a doctor.
Stomach pain
Dizziness
Dry mouth
Sleepiness or unusual drowsiness
Nausea or vomiting
Headache
Skin rash

Where to get high-quality cofryl syrup?
Get it from leading Cofryl Cough Syrup Exporters if you own a pharmacy or a medicine store. They promise trusted quality, affordable price, and bulk supply nationwide.