Things To Know About Aerocort Inhaler
Posted by Admin on July, 01, 2020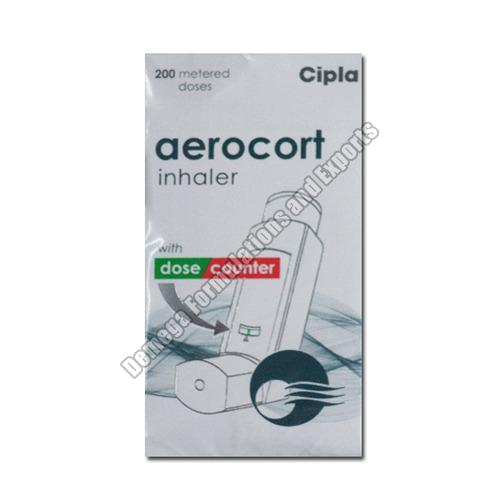 Aerocort inhalers have two active ingredients namely Salbutamol and Beclomethasone. This helps in relaxing the muscles in the lungs, the small airway walls. This will make the breathing faster and easier and helps in reducing the swelling and irritation of the airways. Here is the detailed account of the Aerocort inhaler, its composition, use, side effects and dosage.

What Are The Uses Of Aerocort Inhalers?
This inhaler is used for the treatment of prevention, control and also to improve the following diseases, symptoms and conditions.
• Shortness of breath
• Asthma
• Wheezing
• Respiratory disease
• Lung disorder
• Chronic respiratory diseases
• Asphyxiation

What Are The Side Effects?
Here is a list of side effects that might occur in some cases. These side effects are just possibilities and do not occur always. Some side effects are rare and quite serious. Therefore if you face any of them, better choose to see a doctor and tell him or her about the problems that you are suffering from.
• Dry mouth
• Irregular heart rate
• Improper heartbeat
• Throat or sinus irritation
• Irregular and slow breathing
• Feeling shaky
• Rashes on the skin
• Difficulty while breathing
• Cough

What Precautions do You Need To Take?
Before you take Aerocort inhalers make sure that you have consulted a doctor and have told about your medicine that you are taking at present as that of vitamins, supplementary or for pre-existing diseases and allergies. This is because some drugs can cause some side effects combing with this inhaler. Therefore take the advice of the doctor and they follow the guidelines that are given on the product. The dose of the medicine depends on the condition of yours. Speak to your doctor if your condition is the same and even worsens. Here add some important counselling points.
• Keep the inhaler always upright while you are loading the dose
• Replace the cap of the inhaler after you have used
• Bacterial infection
• Speak to a doctor in case you have an overactive thyroid gland
• Cataracts
• Use as recommended
• Always wipe the mouth of the inhaler with a tissue that is fibre-free
• Glaucoma
• Fungal infection

What Should Not Interact With The Aerocort Inhalers?
In case you are using any other drug over this medicine, the effect of the Inhaler might have a chance. This simply means that the risk levels increase and you may have side effects of the drug might not work properly. You should tell your doctor about all the drugs that you are taking so that the doctor can help you show ways to manage or prevent the side effects and dry interactions. The Aerocort inhalers can interact with these.
• Cancer chemotherapy
• Aminophylline
• Azathioprine
• Aldesleukin
• Atomoxetine
• Digoxin
• Cyclosporine
• Drugs that are consumed due to stress and depression
• Methyldopa
• Furosemide

When Should You Avoid Using This?
Aerocort inhalers should not be used in these following conditions such as.
• If you are allergic to any ingredient it contains
• Asthma Attack
• Antepartum haemorrhage
• Cardiac disease
• Intrauterine foetal death
• Placenta praevia

Aerocort inhaler suppliers provide you with the inhalers that you need for your diseases but you should ask your doctor first.
This entry was posted on July, 01, 2020 at 15 : 05 pm and is filed under Aerocort Inhaler. You can follow any responses to this entry through the RSS 2.0 feed. You can leave a response from your own site.